Welcome to the 87th volume of WizeWorld: a collection of stories and sounds to round out your week, pique your curiosity, and widen your wizdom. 
This week's theme is good news.
With everything going on in the world, sometimes it's nice just to get a bit of good news. It's not about blocking out reality, but it is about focusing on the positives from time to time. Whether it's something as simple as finding a new way to run with your favorite four-legged friend, celebrating an athlete's win at a surf competition, or reflecting on what kindness really means to us. 
We'll be looking at:
A new way to stay fit with your furry best friend

A throwback interview with Rip Curl champ Reed Platenius

Celebrating traditional Ukranian egg decoration

Reed Platenius's rock-solid long weekend playlist

The promising results of a study on kindness
Learn
Changes to a popular weekly running event known as Parkrun have led to one man in England finding a new way to help people stay fit with their favorite furry run buddies: Barkrun. Parkrun recently announced that it will no longer allow harnesses that attach at the owner's waist, which (according to some) is the preferred way for dog owners to jog or run with their pets. So Barkrun founder Kevin Ward is setting up a parallel event for those who still want to be able to have their weekly get-together. Exercise is one of the best ways to keep healthy, and every successful sweat session deserves a can of delicious, low-sugar Wize to refuel and stay fresh. 
Connect
Enjoy this throwback interview with Reed Platenius. Reed recently won the 2022 Rip Curl U18 Division in Tofino, BC, so we thought we'd put a spotlight on how he trains, his goals, and his proudest achievements. Reed cites fellow surfer Noah Cohen—who won the Rip Curl championships overall this year—as a big inspiration and mentor and has his sights set (eventually) on the Olympics. To make that goal, Reed doesn't mess around with sugary energy drinks, instead focusing on sustainably caffeinated and low-sugar alternatives like Wize. So raise a glass to this newly-minted champ.
See
Stationery brand Present & Correct has released a series of note cards inspired by the Polish-Ukranian art of Easter egg decoration, known as pysanka. With pysanka, eggs are decorated with traditional folk designs using a wax-resist method to create intricate designs, unlike other methods that paint the designs on with dyes. Painted eggs (known as pysanky) were thought to protect households from evil spirits, catastrophe, lightning, and fires. Naturally, the proceeds from these cards (which have 'peace and hope' written in Ukranian at the base) will be donated to Voices of Children, which aids those dealing with the current war.
Listen
Wize Athlete Reed Platenius brings us this week's collection of Wize Radio songs to get you motivated and excited for the weekend. This rock-solid playlist includes tracks from Mac Miller, Kendrick Lamar, Khalid, and A$AP Rocky, among many others. Turn up, tune in, and take it easy, Wizefam.
Get inspired
Finally, Positive News brings us a little more good news to finish out our week. When was the last time someone was kind to you? According to a recent survey of over 60,000 people, it actually happens quite a bit. 75% of people said that close friends or family displayed acts of kindness nearly all the time, while 43% said someone had been kind to them within the last day. Perhaps the biggest surprise? Despite what you'd gather from headlines, most people think the pandemic has made those around them kinder and more considerate. And in many cases, people recalled something as simple as being given a cup of tea as a small act that made their day a little brighter. As researcher Robin Banerjee put it: "It really made me think about the social context of all of this. We all have a role to play in kindness. This isn't just about individuals doing their thing, it's also about us coming together as a collective."
Sign up for our weekly newsletter to get these hand-picked gems in your inbox every Friday morning.
READ NEXT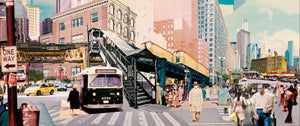 WizeWorld Volume 88
We can't always wait for perfect conditions; sometimes we have to go out and make the best of it.
READ MORE >