Happy Friday, Wizefam.
Welcome to the 77th volume of WizeWorld: a collection of stories and sounds to round out your week, pique your curiosity, and widen your wizdom. 
This week's theme is experimentation. 
Trying new things is what keeps us fresh. It can help us stay curious and see the world in new ways. It's through experimentation—with what we read, what we eat, what we drink, what we listen to, and who we spend time with—that can lead to us moving through life wizer, happier, and healthier. 
We'll be looking at:
Why the right amount of caffeine can fuel peak performance

An interview with mountain biker and Wize athlete Trevor Thew 

How art makes us feel, and how to find art that stokes your emotions

Funkanometry Faves, a playlist by Vancouver Island's own Funkanometry

The artists bringing music to people's doorsteps during difficult times
Learn
Triathlon Magazine does a deep dive into why the information on caffeine and performance feels so confusing. The perfect amount of caffeine has been reported to lower muscle soreness, reduce fatigue, and boost everything from jump height to strength, aerobic capacity, and more. But too much caffeine can leave you feeling anxious, sweaty, and irritable. Finding that balance is more than just a simple equation, but beverages like Wize with lower caffeine overall can avoid the big spikes and even bigger crashes that so many of us have experienced while trying to reach our own perfect equilibrium. 
Connect
Enjoy this interview with Canadian mountain biker Trevor Thew, our newest Wize athlete. Thew started riding at a super young age with his dad and his friends in the trails around Duncan, BC. What began as a hobby turned into a passion and eventually became a career. Trevor's successes include winning his hometown Enduro three times while balancing school and the rest of his busy life—with the occasional can of Wize helping to fuel it all along the way.
Or, as Trevor himself puts it, "Wize fits into my lifestyle because i'm a super active person that needs a pick me up from time to time and Wize doesn't leave me with a big crash afterwards."
See
MoMA Magazine knows that "appreciating art" can feel like a big (and frankly pretentious) task. Instead, it invites you to ask the key question: how does art make you feel? Inspired by this cartoon from Lindsay Braman, it walks you through some of the most famous pieces of art to question why certain paintings or work elicit particular emotions. No art history degree needed; only feelings allowed beyond this point.
Listen
This week's playlist is Funkanometry Faves, curated by Nanaimo-based dance duo and World of Dance performers Funkanometry. This collection includes an eclectic and experimental mix of sounds from XXXTENTACION, Trippie Redd, Kupla, RUFUS DU SOL, and more.
Get inspired
Finally, Positive News tells the story of Give a Song—a group of performers who found themselves out of work during the many Covid lockdowns of London. Rather than waiting for bars and venues to open, they began bringing live music to vulnerable and isolated residents' doorsteps. Since then, they've given over 360 performances to more than 6000 people. Founder and saxophonist Chloe Edwards-Wood (pictured above) is trying to secure a long-term future for the project because, as she says, "Loneliness and isolation aren't unique to the pandemic."  
Sign up for our weekly newsletter to get these hand-picked gems in your inbox every Friday morning.
READ NEXT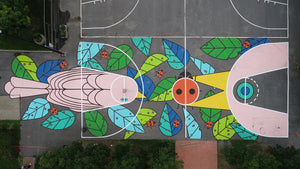 WizeWorld Volume 78
This week's theme is disruption. Sometimes you just need to shake things up. Small steps and gradual progress are great ways to make a change over time, but what about when that change needs to happen right now? Whether it's by infusing activism-inspired art into the streets, or slapping a warning label on the products that are harming our health, we look at the people and industries seeking to make real and immediate change through disruption. 
READ MORE >