Happy Friday, Wizefam.
Welcome to the 78th volume of WizeWorld: a collection of stories and sounds to round out your week, pique your curiosity, and widen your wizdom. 
This week's theme is disruption.
Sometimes you just need to shake things up. Small steps and gradual progress are great ways to make a change over time, but what about when that change needs to happen right now? Whether it's by infusing activism-inspired art into the streets, or slapping a warning label on the products that are harming our health, we look at the people and industries seeking to make real and immediate change through disruption. 
We'll be looking at:
What happens when you put warning labels on soda?

An interview with snowboarder and surfer Jamaal Cunningham

The Montreal street art that's inspired by activism

How Chels takes us to space with Venus in Leo

Why Lego's moving away from gendered toys
Learn
Forbes takes a look into what happens when warning labels are added to sugar-laden sodas. Despite opposition from the American Beverage Association, several towns and cities were able to implement labels in the short term. What did they find? Even in a short span of time, rates of obesity dropped by small but significant amounts, and people were 6-19% less likely to buy pop in the first place. Would you support a warning label on soda near you?
Connect
Enjoy this throwback interview from last year with year-round athlete Jamaal Cunningham. Jamaal started out with what he calls "conventional" sports like basketball, baseball, and soccer. But shortly after watching the X Games, he fell in love with the extreme side of athleticism. 
Now he's a surfer, a snowboarder, and he's training to become a firefighter. And with all of that activity, drive, and ambition, he has no room for sugary drinks. As Jamaal himself puts it:
"As I got older and realized the devastating effects sugar was having on my life and performance, I sought out more and more beverages that could still give me flavor and energy without the rush and crash. Wize fits the bill!"
See
Colossal brings us the work of Montreal-based artist and activist Roadsworth who turns the streets of his city into a canvas. Whether it's bringing attention to the realities of the refugee crisis on a basketball court or depicting the birds, insects, and other wildlife that he feels are being pushed out of the urban landscape, he uses art to question how we use our cities, and what it costs us.
Listen
Break up your day with this prolific R&B mix from rising DJ @chelsiedelr. Chels plays parties from Real Love to Midnight Mondays, and here she features some of her favorite cuts from Snoh Aalegra, Lucky Daye, Tems and much more.
Get inspired
Finally, Positive News discusses Lego's decision to remove gender bias from its toys. They found, after surveying around 7000 parents and kids aged 6-14, that kids' ability to play and imagine was hampered by expectations around gender; whether that meant that boys didn't feel confident about playing with dolls, or girls didn't feel empowered to think of themselves as builders or engineers. So Lego is disrupting the way we see kids' toys and proudly declaring that its colorful blocks and cute figures have no gender requirement one way or the other. 
Sign up for our weekly newsletter to get these hand-picked gems in your inbox every Friday morning.
READ NEXT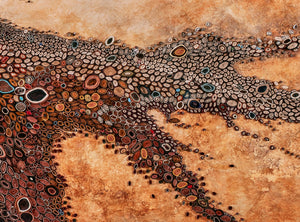 WizeWorld Volume 79
Innovation helps us redefine what's possible, and imagine a future unlike anything we've seen before. 
READ MORE >