Happy Friday, Wizefam.
Welcome to the 76th volume of WizeWorld: a collection of stories and sounds to round out your week, pique your curiosity, and widen your wizdom. 
This week's theme is small steps.
It can be hard to see the effect of small steps and little changes—whether it's to your diet, exercise routine, commitment to the environment, and more. But it's important to remember that every step you make is a step forward, no matter how long it takes to get there. 
We'll be looking at:
How to safely cut caffeine and minimize withdrawal symptoms

An throwback to our interview with skier Ryder Bulfone

Spicy Sounds, a collection from Morgs to fire you up 

A look at bee bricks: a wicked innovation to keep solitary bees safe
Read
Lifehacker walks you through the gentlest way to reduce caffeine in your daily life. If you're looking to cut back, here's how to do it with the fewest side effects possible—including why a little caffeine can still be a good thing, especially during the rockiest part of withdrawal. Wize iced tea is a great option to supplement a little caffeine when you need it without overwhelming your system.
Special Feature
Squamish-based skier Ryder Bulfone @flowryder talks to us about how he started out with the Whistler Freeride Club, skiing in Austria, and how he plans to break out of the traditional 9 to 5 structure. 
Listen
This week's playlist is Spicy Sounds, curated by Morgs (@morganportia). With some vintage Kanye and Rihanna, as well as the Bad Bitch Anthem itself, it's time to put in your headphones and add a little heat to your week. 
Good News
Finally, Colossal brings us the story of Green&Blue: a company based out of Cornwall in the UK that makes bee bricks. These unassuming building blocks are drilled with a series of differently-sized holes to offer homes for bees within the urban landscape. Many pollinators have no fixed hive and bee bricks offer them a safe spot to rest while they're making the world a little more green and beautiful.
Sign up for our weekly newsletter to get these hand-picked gems in your inbox every Friday morning.
READ NEXT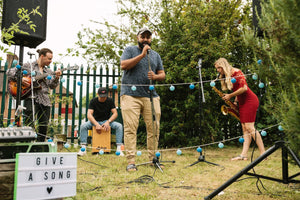 WizeWorld Volume 77
What's the perfect amount of caffeine for peak performance, and how should art make you feel? Find out in this week's WizeWorld.
READ MORE >