Welcome to the 91st volume of WizeWorld: a collection of stories and sounds to round out your week, pique your curiosity, and widen your wizdom. 
This week's theme is individuality.
How much caffeine can you handle in a day? Can you tackle a 10-minute standup set? What's the best way to get through hard times? We all have a unique way of looking at and responding to the world—it's what makes us different, and that difference is important. This week, we're celebrating our differences by encouraging everyone to find their personal limits and expand their horizons. 
We'll be looking at:
Why caffeine impacts us all differently

An interview with skateboarder Marcus Denis

Nick Cave's art retrospective in Chicago

CTRL-ALT-Bounce by Yakobe

A prescription for standup comedy
Learn
Discover Magazine tackles the question of why caffeine seems to impact all of us a little differently. Whether we get it through coffee, tea, or energy drinks, 85 percent of Americans consume at least one caffeinated beverage (about 165mg of caffeine) daily. And while some can seemingly guzzle endless cups and stay stable, others get the jitters from a single espresso. The answer is complex and involves a host of factors from genetics to daily habits, but either way one thing is true: the small, sustainable amount of caffeine you'll find in a can of Wize should go down smooth with almost everyone. 
Connect

This week's interview is a throwback with skateboarder Marcus Denis who got hooked on skateboarding watching his friends tearing it up at the park and eventually joined in himself. Nowadays he loves to travel and sees every day on the board as a blessing. His favorite flavor of Wize is Mango, and says that he recently switched from a sugar-laden iced tea to Wize instead because he wants to make sure that he's fueling with something that doesn't contain a ton of excess, "foul" ingredients. 
See
Nick Cave (the sculptor, not the musician) brings his first art retrospective to the Museum of Contemporary Art in Chicago. The exhibit, called Forothermore, looks back on three and a half decades of work including Soundsuits and other pieces that confront issues ranging from racism, homophobia, and other forms of bigotry. He says that he's found the entire process enlightening and that he no longer allows tragedy to serve as a directive when creating art.
Listen
Need a reset? Plug in and tune out the world with CTRL-ALT-Bounce from DJ and music director Jacob Soriano (@yakobesoriano). This mix includes everyone from Knox Fortune to Common Saints, Ralph Castelli, Duckworth, SAULT, and more. Best enjoyed with a Wize Mango iced tea.
Get inspired
Positive News brings us the story of comedian Angie Belcher who's designed a "prescription comedy course" to help people struggling with trauma. Belcher, who has a background in psychology, says everyone has a 10-minute set in them and tackling a fear of stage fright or audience reaction to tell jokes for a few minutes can help people process their own trauma. She says that the point is ultimately to find light in the darkness, and to see the funny side of issues they may be struggling with and the way sharing their experiences with others can help them heal, too. 
Sign up for our weekly newsletter to get these hand-picked gems in your inbox every Friday morning.
READ NEXT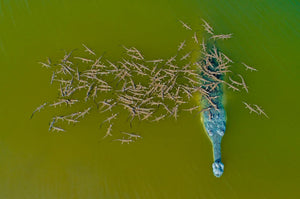 WizeWorld Volume 92
Resilience is how we get through the tough times to reach our pinnacle. 
READ MORE >